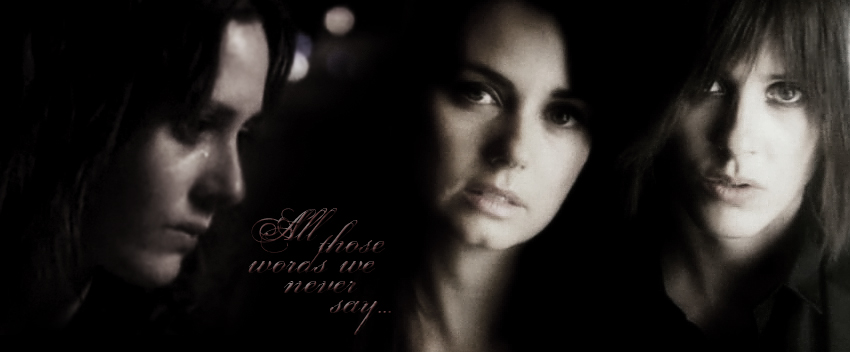 Rules and Instructions
Table of Contents
This is not a very long list, so please be respectful enough to read through this BEFORE you start using the gallery. By using this site you agree to the following, and it should be in your interest to make sure you know what you may or may not do here. Violation of these rules may, at the discretion of the administrator, lead to a warning, suspension, or even a ban from the entire site, all depending of the severity of the violation.

If you have questions that are not answered here, please check our Frequently Asked Questions before asking for help.

ATWWNS is both an L Word and a Three Rivers site, so for that reason we have fanart for both of those shows in this gallery.

Rules
Rules for Viewing the Gallery
NOTE: Accounts that have not been used in within 7 days after registration will be deleted. Spammers and trolls will also be deleted without warning.
By viewing this gallery, you agree that you...

will not take art from this site and upload it elsewhere, claiming it as your own. Nor will you alter the files found here without permission of the artist.
will respect any rules stated by an artist on their work. If they have specific rules for use of their art, (for example, such a thing as requesting you credit them for their work if you use it somewhere else) you must follow them as long as their rules do not contradict the rules of this site.
will, in general, treat other members of this site with respect.
Rules for uploading content to the gallery
Please note that the purpose of this gallery is to display and share fanart for other members to download. If you do not intend for people to be able to download and use your art, then you should probably reconsider uploading it here.
By using the upload-function in this gallery, you agree that...

you will follow the listed instructions when you upload your art and place all files where they belong so the visitors of the gallery can easily find what they're looking for.
you will not upload fanart that doesn't belong to you. If we catch you uploading someone elses work and claiming it as your own, you will be immediately banned from the site. (However, it doesn't matter if you credit the artist or explain that you didn't make it. If you think the work of an artist you know of should be hosted in the gallery, please contact them and invite them to join. Do NOT upload their images yourself.)
you will not upload Sharmen (Shane/Carmen), Carmen or Tibette (Tina/Bette) fanart. Nor will you upload art that we don't have albums for.
you will not upload nude or topless photos from the shows, or of the actresses, or in any other way post disrespectful or harmful content. If the administrators find that you do, your images may be deleted without warning.
Basic instructions for the upload-feature
Note to newbies: If you want to learn how to make fanart but have no idea where to start, you can ask for some pointers at our forum.


How to upload an image
Click on "Upload File" in the navigation bar.
You can upload by choosing a file on your harddrive, or one you have already uploaded somewhere else, by pasting the URL. You can upload several files at once if you like. Click "Continue".
Choose the album you want to upload to. Every image is supposed to be put in at least 2 albums, but you may only choose one for now. (You will add the other album(s) using the keyword function.) Pick the one that best fits your image.
If you can come up with a short, fitting title for your image, type it in the "File Title" field. If not, you can leave it empty.
"File Description" is also optional but you can enter any information you want to share about your image. You can for example enter any rules you might want people to follow when using your art. For example, if you want to remind them to credit you, comment if they use it, or anything similar, or just tell everyone what inspired you to create this artwork.
You MUST enter proper "Keywords". Keywords are used to place an image in more than one album, and you are meant to put the keyword of each album you want to put your file in, even the one already specified in the "Select Album" drop-down menu. More about keywords in the section below.
Click "Continue". And your file is uploaded!
Keywords, albums and how to use them
Keywords, just like albums, are divided into two groups - By Content and By Type. There are also a few keywords specifically for Wallpapers. When you upload an image to the gallery, you are meant to place it in two (and in some cases more) galleries - one By Content and one By Type. The software only allows you to put the file in one of the galleries when you upload it, and we do not want you to upload the same file twice. The solutions to this problem are keywords.

The keyword for each gallery has been specified in the gallery descriptions but here's a list just in case.
These are the predefined keywords you can use to organize your images in the gallery:
By Content:
miranda - (links to album "Dr. Miranda Foster"
threerivers - (links to album "Three Rivers"
kate - (links to album "Kate Moennig")
shenny - (links to album "Shenny")
thelword - (links to album "The L Word / The Cast")
shane - (links to album "Shane")
jenny - (links to album "Jenny")
mia - (links to album "Mia Kirshner")
By Type:
avatars - (links to album "Avatars")
banners - (links to album "Banners")
wallpapers - (links to album "Wallpapers")
headers - (links to album "Headers")
drawings - (links to album "Art/Drawings")
animations - (links to album "Animations")
other - (links to album "Other")
Wallpapers:
800x600 - (links to album "800 x 600")
1024x768 - (links to album "1024 x 768")
1280x800 - (links to album "1280 x 800 (Widescreen)")
1280x1024 - (links to album "1280 x 1024")
wallpapersother - (links to album "Other valid sizes")
How to use keywords
While keywords might seem similar to the "tag" system on for example livejournal.com, they do not quite work the same way. Please do not use keywords other than those specified above. If you do, they will be deleted by the administrator, so please, just stick to the predefined ones.
When you enter keywords into the upload-form, there is an "Insert from list" link that shows you all keywords that have been used so far and lets you click on them to insert them to the form.
Keywords are separated with spaces. Never separate them using anything else, this will create a new keyword and you will not get the desired effect.
If you are not sure where to put your files, take a look at the list of albums on the main page; all of them have descriptions that tell you what goes where.
One common example: If you have uploaded an avatar with Shane in it, it should be put in the Avatars album, as well as the Shane album. NOT in the Kate album. (Even if she, as we all know, plays Shane, we want to separate the actresses from their characters. The only time you should link an image to BOTH Kate and Shane is if they both appear in it.) The keywords for that would be "avatars shane", and that would place your avatar in both albums even though the file only gets uploaded to one of them.
Animated example: If you've made an icon of Miranda that's animated it will need to go in three categories. Like this: "miranda animations icons".
Wallpaper example: You have uploaded a wallpaper of Mia that is 800 pixels wide and 600 pixels high. It should be placed in the following albums: "Mia Kirshner", "Wallpapers", and "800 x 600". We have both a Wallpaper album and a Wallpaper category, and while this might be confusing, it was made that way for a reason. Files cannot be uploaded directly to the Wallpaper album, because we want to force uploaders to place them in the appropriate album based on its size. The keywords for this would be "mia wallpapers 800x600".
If you upload an image of both Shane and Jenny, it should not use the "shane" or "jenny" keywords, but only "shenny". That way people who click on the Shenny album will only see Shenny fanart, and if they are looking for images of them separately, they can view those albums instead.
If keywords are applied incorrectly, the administors reserve the right to edit your uploaded files.